Recent Events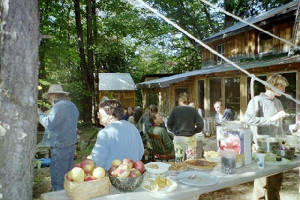 September 18 Pot luck dinner hosted by Richard & Amy of Ice-house fame. Had a good turnout of chapter members, friends, and neighbors... they gave tours of the house and farm, and treated us with home-made ice cream made with the last of the previous year's ice harvest!
July 03-04 Party!!
chapter is once again
hosting a 4th of July
weekend party.... camp
out, meet people, enjoy
the food! (Details on the
Vermont chapter site)
I camped out 2 nights in the garden area, met everyone there, we had a tour of the house and farm, attended two local parades while there and enjoyed the local fireworks display.
Bruce & Nancy's work party:
June 04-08 Dannemora, NY
workshop and work party for cordwood construction, presented by Rob Roy,
an estimated 21 people attended to give an assist to constructing their cordwood cabin, some camped out overnight on-site. Looking good!!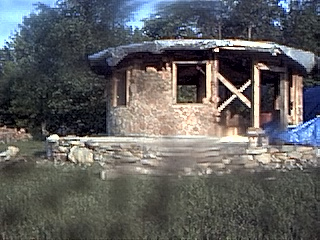 The cordwood cabin



Upcoming Events
Renewable Energy and
Sustainable Living Fair
in Custer, WI
Congratulations to the MREA!!
A record attendance of 17,400!
the New England
Renewable Energy
Festival
in Poultney, VT
EORenew
in John Day, OR
Flagstaff, AZ
Randolph, VT
had a good time even with the rain and the mud, and the mud
drags in the parking area.... lots of good music and good food!
Hopland, CA
Fletcher, NC
Iowa Energy Expo
Hiawatha, Iowa
Fort Collins, CO
Fredericksburg, TX
.....